Building an Archtop Guitar from Scratch
February 2021 -- guitar, woodworking, diy
Over the years, I have built several guitars. Today, I focus more on playing guitar than building guitars. After all, that's why I built them in the first place: to play them! Come to think about it, if I had spent as much time playing guitars as tinkering with them…
Getting Started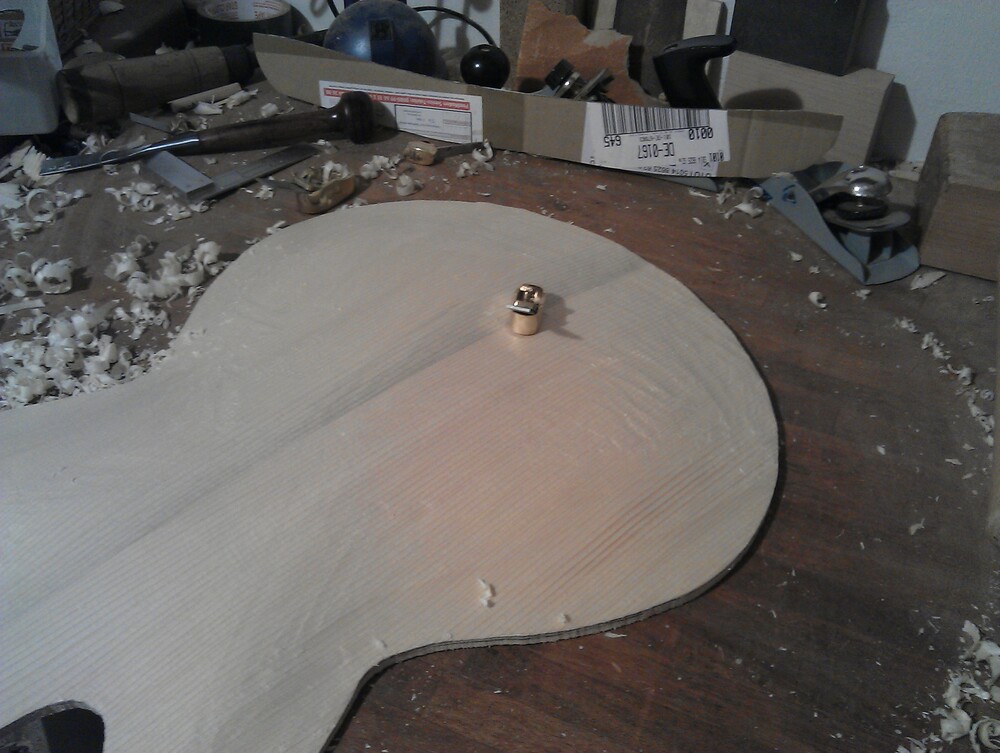 This is a short writeup on the Fratellino, the first guitar I ever built…from scratch! And it's a real solid-top-and-back archtop jazz guitar. I had done some modding and repairwork on guitars before, but nothing of this scale. I don't recall exactly why I got into this project, this was back in 2012. I bought the book Making an Archtop Guitar by Robert Benedetto, which is considered the bible of archtop guitar building. I loosely followed some of the steps described in the book after reading it through.
A lot of information was also sourced in various internet forums on the subject matter, but I did not follow any precise build manual. I had to improvise many processes, due to the fact that I did not have any advanced equipment, but rather only had handtools available. The only powertools I had were a jigsaw, a disc-sander and a drill. It's amazing what you can do with a simple set of tools. It forces you to come up with a lot of creative solutions.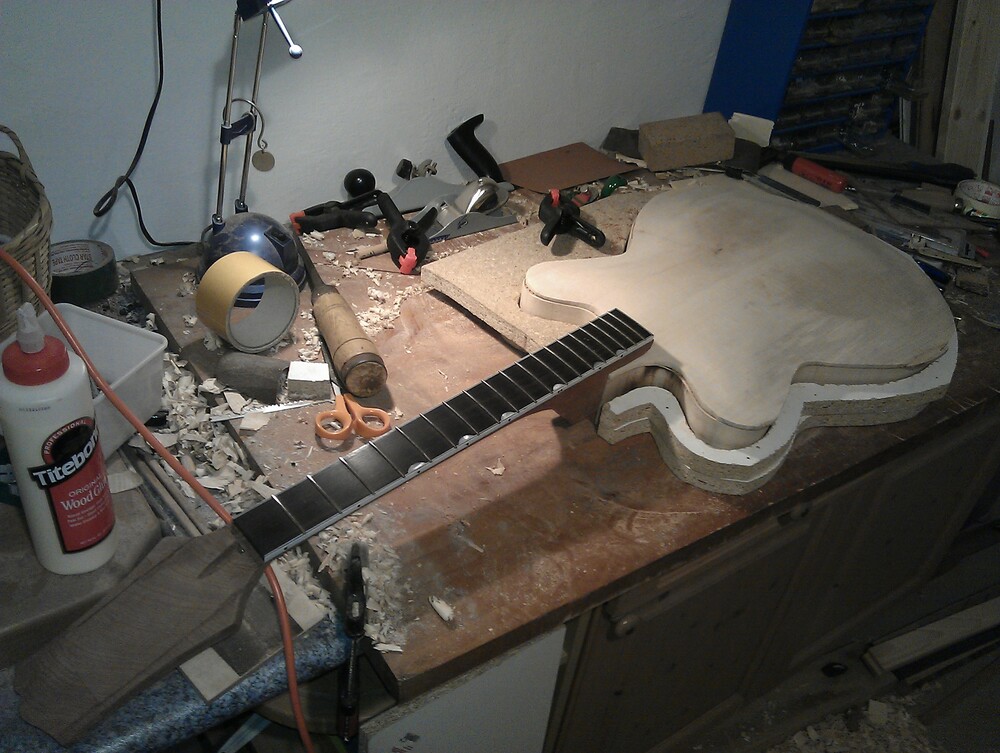 Inspiration
Before I started building the guitar, I had recently taken up lessons with a local guitar teacher, a jazz guitarist who has influenced me to a great extent. During the lessons at his apartment, I was usually allowed to pick one guitar from his collection to play during the lesson. I had admired the beautiful archtop guitars in his collection for some time, and eventually decided that I really wanted to own such an instrument as well. I was already building tube guitar amplifiers at this time, so I guess it was only natural to build a guitar as well. So I bought a book, drew up some rough sketches, did some research on tone wood and got started.
A Major Modification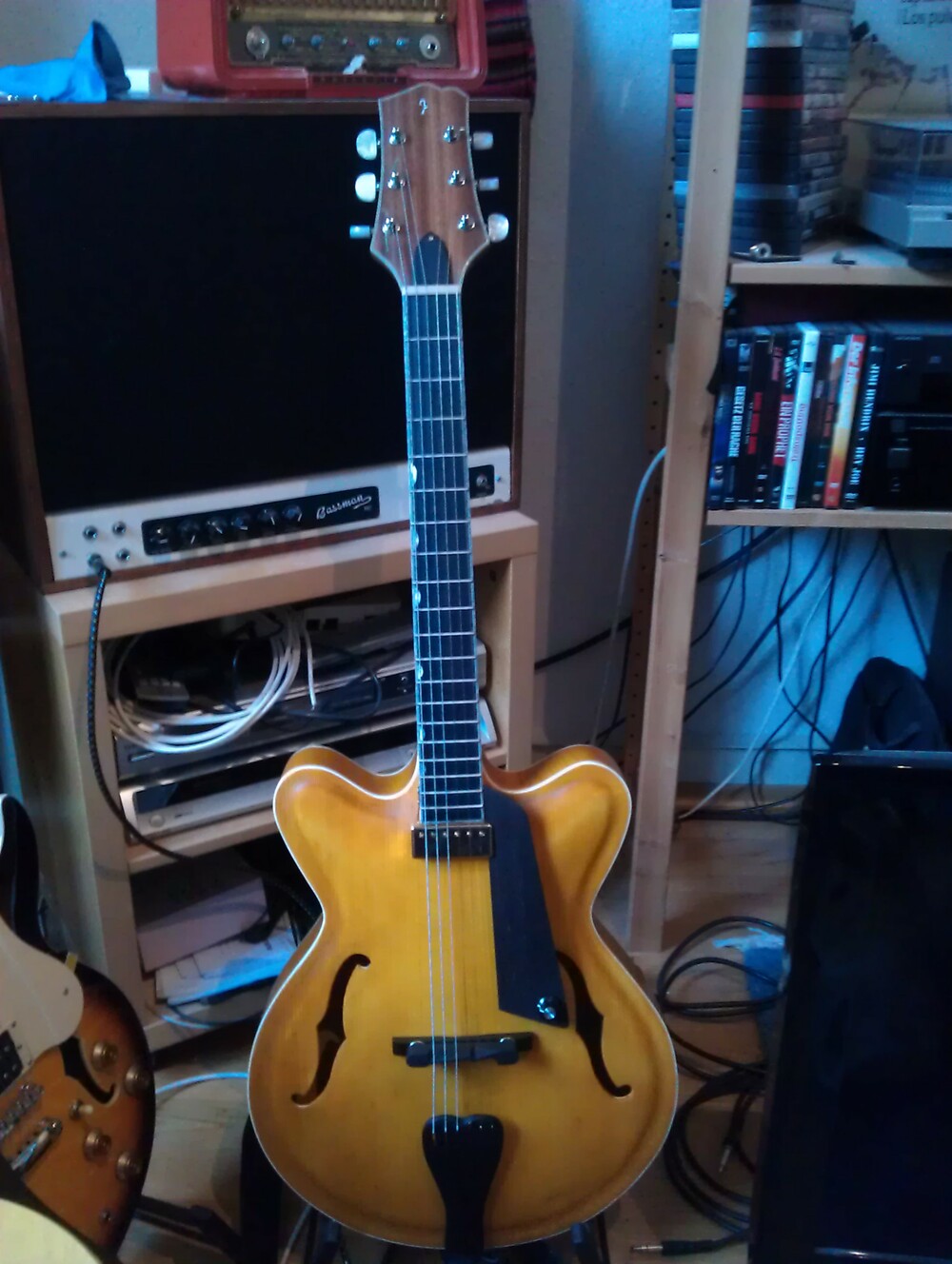 The only serious error I ran into was a flaw in the calculation of the neck geometry. I had miscalculated the width of the binding at the head end of the neck, which led to a very wide neck profile. The neck profile was very much like the neck profile one might find on a classical guitar, too wide for my taste. I prefer slim electric guitar necks, with little string spacing and rounded edges. At some point I realized that in order to be at piece with this project, major rework of the neck was necessary. It took me a couple of years until I found the time to tackle this project and I actually postponed it a few times. I was afraid the modification would be too complex, and I would end up ruining the guitar.
Taking A Risk
It was a high risk to take, as I had to trim off substantial material from the sides of the neck - without being able to remove it. Set neck guitars can be a pain to work with, especially when we're talking about an archtop that has no straight edges, nothing you can fix things to, and you constantly have to be careful not to do any damage to its fragile parts.
I managed to mount a highly questionable collection of scrapwood, straightedges and clamps to the body, expecting the guitar to collapse at any moment, but things went well. I had to reshabe the neck, do considerable repair work on the fingerboard, a complete re-fret, as well as a complete refinish. I also took the chance to upgrade some of the hardware and add more refined mother-of-pearl inlays. One needs to pass the time while the lacquer is curing…
The Outcome
The guitar finally looked quite different compared to its first "completion" status, as you can see on this picture showing it after all modifications and repairs were completed. All went well, the neck is now a slim profile, and it feels a lot more playable to me. By the way, it's a spruce top, maple back and sides, mahogany neck, ebony fingerboard and an AER floating pickup.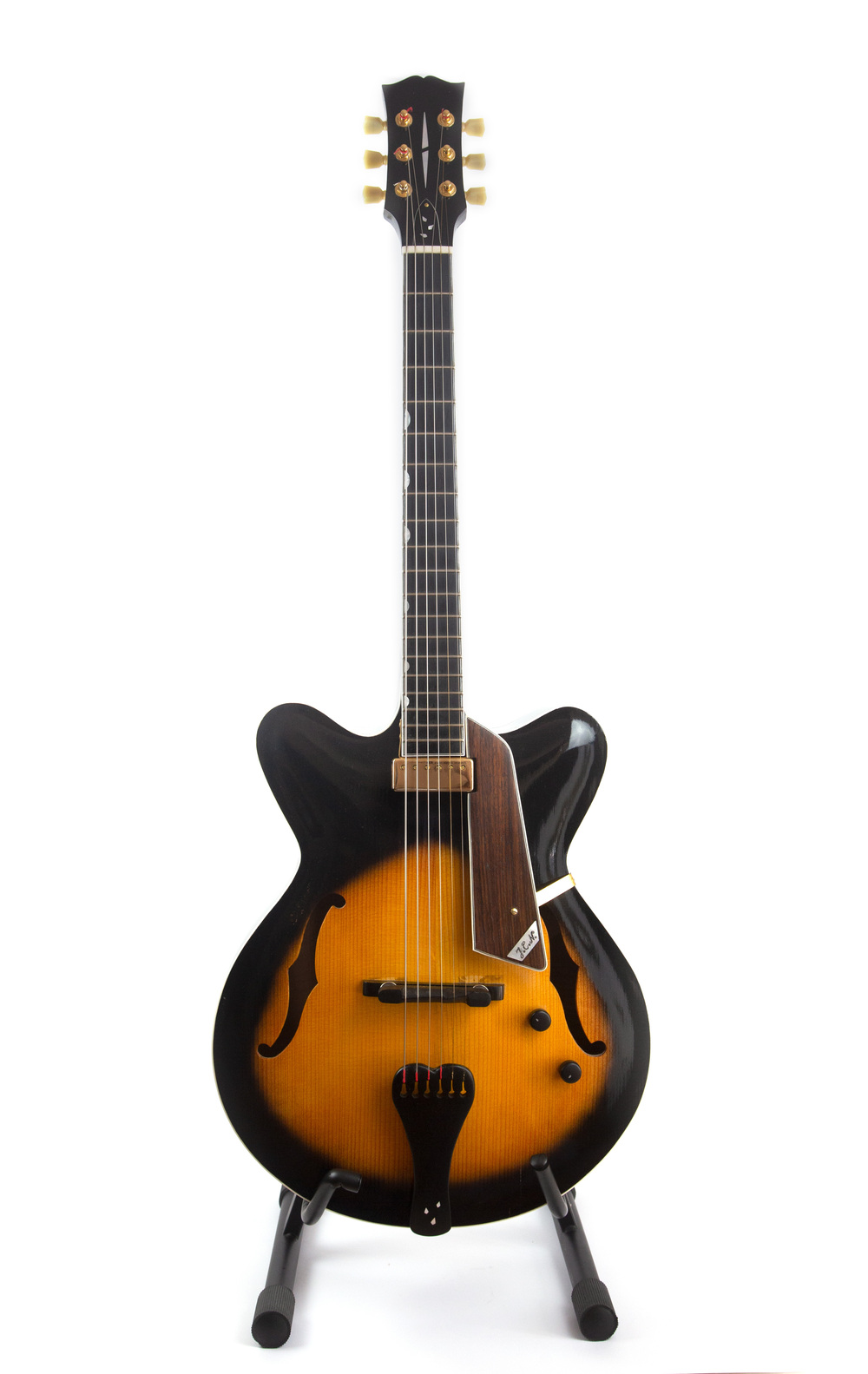 Never really done…?
The thing with functional things is that what's considered optimal at some point, may change over time. To me, musical instruments are tools as much as they are works of art. The evaluation of these criteria is rightfully considered highly subjective. Especially when having built something yourself, it can be tempting to keep trying to improve, and one tends to focus on what might be thought of as flaws.
I have come to believe that there comes a point in time when every project needs to be finalized, even if flaws remain in the eyes of its creator. I am very happy with the final outcome this guitar has taken, and I am glad that I went to the trouble of rebuilding the neck. In the end, it turned out great, and although minor flaws remain in my eyes, the guitar feels and sounds good to me, which is why I am truly proud of this project.
I hope you enjoyed this, keep building and thanks for stopping by!